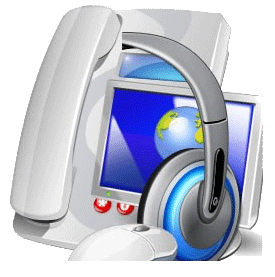 Thank you for the interest in VoIP SIP SDK, well-known VoIP solution that provides you with abilities to quickly build a customized softphone sip client application and distribute it as your own product. In addition to this, you can extend your current software capabilities by integrating VoIP features to your current software with use of our SDK.
Please have a look on the main features of the SDK. First of all, it provides support of SIP, RTP, and SDP protocols that enable VoIP features. It is based on STUN and other IETF standards and that makes it compatible with SER, OpenSER and Asterisk. Therefore the SDK supports use of SIP registrars (SIP servers).
It is based on ActiveX and supports COM and plain dll files. Among other features of the SDK are SIP Proxy authentication and support of Dual Tone Multi Frequency (DTMF). VoIP SIP SDK works with Virtual Private Network (VPN) and via NAT and firewall. As well, it supports all kinds of Internet connections.
Final product, which can be developed using our SIP SDK, provides all required functionality of sip client application. It is possible to execute different operations with calls: to hold and retrieve call, to forward call, and transfer call. You can create multi-party voice conference or communicate with different respondents on different lines at the same time. The software supports Instant Messenger features. It is possible to adjust software volume control. You can set a custom ringtone, record conversation into file, and play WAV files into conversation.
On this website you are able to download our application free of charge to evaluate its features and suitability for your project needs. Despite that our software is indeed commercial, trying and usage in non-commercial purposes for 30 days of evaluation is possible. So even if you do not consider purchasing the softphone solution at the moment, but interested in VoIP technology, you can play with our SDK and even receive free technical support from our team. We encourage you to post your questions on our blog and inform us about features that should be improved. We appreciate your interest to our website and product.
To try free SIP VoIP SDK, please go to our VoIP Download page.